Facebook celebrated its 10th birthday on 4th February this year, and all those "Facebook is dying slowly" gossips got re-invented a couple of days earlier. Facebook has launched its most recent Smartphone app like many not-so-great previously launched apps. Can this app be different? It is simply called Paper.
The mobile version of Facebook's News Feed caters as more than just an expansion to social media sites, in fact, it's a total revamp of blue-themed social network feed.
The Paper app is not trying desperately to promote itself as "Facebook app" and this can be evident from the fact that Facebook symbol is not displayed in the app, though it is mentioned. Looking at the notifications from your friends, it feels a different type of scrolling.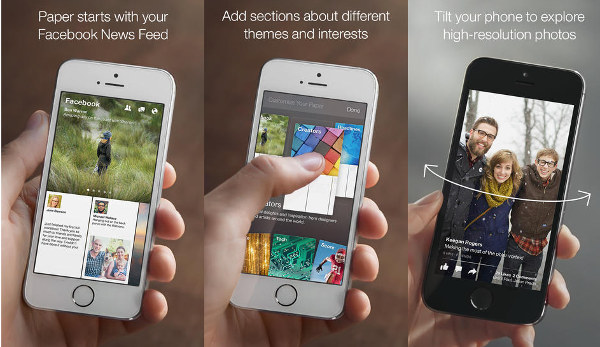 It is entirely different from the way you've been scrolling your news items previously. The messy lines one after another on the homepage are done away with in this app as you had texts and images all at one place making it difficult to view them all properly. Paper makes them at the center, and they utilize the screen space better than ever. The images shared by your friends and pages swap at the topmost part of the screen. It looks like it is a characteristic feature of sorts, and the list of news feeds can be seen below the pictures. Thus, it makes a better convenient feature.
According to Chris Burns of Slash Gear, it makes you feel like there is a rotating gallery of your Symbian mobile phones and you have to click the item for seeing it. It's somewhat similar to that. If any of the paper stories make you interested, it gets enlarged, and you can view it separately.
Once you open a story, the app gets at its best. The panoramic views of the images make for an excellent viewing. The beautiful motion transition is apparently good-looking, and it plays right to the simple theme of the application.
Some of the reviewers say that it does not promote Facebook, thus making the world's largest social network poor of marketing through the app it launched.
AJ Dellinger, technology reviewer at Digital Trends, said "It's bizarre to say that an app from Mark Zuckerburg's brainchild company could be its possible killer, but that's what Paper gives a feel of. Between its obvious and trouble-free design, responsive interface, and facility to offer you with the preeminent pieces of the internet and your feed, Paper exceeds all that Facebook has ever attempted previously. There's nominal facts about Facebook itself, a network that has done next to nothing to see itself over its decade of survival. Paper is Facebook going beyond the news feed and tries that it's not just like any other networking site – it's about you, your family and your friends, it's for all. There can be few upgrades to make it more better, but still, it's an excellent set up for a fresh juncture of Facebook."
He further stresses with the conjecture that Paper app is a risk by Facebook into mobile applications that finally pays off.
Available in iOS, 'Paper Stories from Facebook' is downloadable from the App Store from the morning of 3rd February and it's free of cost. Let us know your reviews about the product in the comments below.