Find My Friends is a free of cost application for iOS 5 that allows you to straightforwardly trace the location of your friends and family from your iPhone, iPad, or iPod touch.
All you need for Find My Friends App is an iPhone, iPad or iPod touch with iOS 5 or later versions. You can install free Find My Friends app on your device that operates on iOS 5 or advanced versions. Then open the application, you can sign in with your Apple ID that you use for iCloud. Sending request on your friends email ID, your friends can connect you with this app. It's not a social networking app, your friend too needs an iOS 5 device at their end with Find My Friends installed.  Your friends should agree to share their location with you using Find My Friends. Once your friend accepts your Find My Friend request you can locate every friend you're following, each one will show up on the map as a distinct dot, with distance in miles and by name. It is not regularly updating your information about location, but when some of your friend requests to view your location, the device responds to it.
But how many of you do really want your friends to be stalking you? Only if YOU accept the invitation of your friend to follow your location, they can locate you. Similarly, if you want to see your friends' location, they need to accept your invitation to follow their position. This app runs passively on your device and does not use GPS, when one of your friends starts up the Find My Friends app, it sends out a request from their device to your iPhone device, which turns on your GPS, finds out where you are, and reports that location back to the other device.
Apple recently has updated this app, Zac Hall reports for 9to5Mac, "The social app stood out the most on iOS 7 with its leather stitching and real life paper map theme, but rest assured Apple has redesigned it with iOS 7 in mind, the new update features transparency, lots of white space, and feel much lighter." He further adds, "Find My Friends 3 is available for free on the App Store for iPhone, iPad, and iPod touch."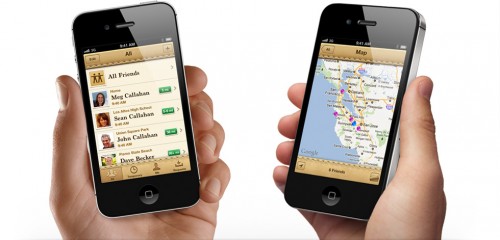 It is a very good application to check the location of your near and dear ones. Yes, it is a fantastic application, but doesn't it violate privacy a bit?
What if you don't want anyone to track your location while being on Find My Friends? Don't worry, for that, there is "Hide My Location" option as well. When selected, your friends will not be able to locate you, and they will get "Location Not Available" displayed on their devices.
Isn't Find My Friends a very great app from AppStore? Keep visiting us for more updates!